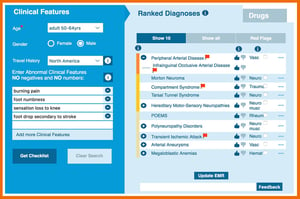 There has been a lot of talk this week, both in the healthcare world and beyond, about Artificial Intelligence (AI). Babylon's AI chatbot was released a few weeks ago, and has since come under some scrutiny, on social media and from the press, as to its accuracy in diagnosing patients correctly. IBM Watson, a system developed for many years now and which has cost the technology company billions of dollars, was also questioned as to its efficacy in a hospital setting, and whether it helped doctors to speed up and improve their diagnostic processes. At Isabel, we have several core beliefs that all feed into our mission of improving diagnosis. While we do not wish to directly address the Babylon and IBM Watson cases, the talk around AI has definitely intensified over the last few days, and we want to be part of that conversation.
Improving Diagnosis
We regularly discuss the ways in which we should be trying to improve diagnosis, from white papers, to blogposts, to workshops and speeches at conferences. Isabel Healthcare was created after a near fatal misdiagnosis of a 3 year old girl, and so we really do put improving diagnosis at the forefront of our efforts, and encourage the same of other companies. Landmark reports and papers over the years have all shown misdiagnosis as one of the biggest and most costly problems in healthcare, and we want to help change that.
Encouraging Diagnostic Improvement
When we first started as the Isabel Medical Charity in 1999 there weren't many big conversations about misdiagnosis or the need for improvement, and there certainly wasn't much literature on the ways patients and medical professionals can and should interact. Nearly 20 years on and the internet and technology has exploded, connecting us in an unprecedented way and allowing patients to become more involved in their own health than ever before. We believe that any effort to address the patient-doctor relationship, or to improve the diagnostic process and make things easier, should be celebrated, talked about and developed.
Celebrating Technology in Health
With the internet and better technologies, comes a huge increase in the possibilities for our healthcare practices globally. Things as small as smart apps or an artificial pancreas, to larger scale EMR systems and differential diagnosis tools in institutions, are all things thought of as a distant dream 30 years ago. But we still have a long way to go. At Isabel we always call for and will champion adoption of tools, as well as the creation of new tools by applying existing and new technologies, within the healthcare industry. If gaming and mobiles can develop as much as they have done in the last 5 years, why not health tech too?
Validation and Independent Reviews for Health Technology
The Isabel Symptom Checker is currently the only validated symptom checker for patients out there, and that's only because the system is based on the professional tool which has undergone a continuous, independent validation process over the last 17 years. If we want doctors and patients alike to embrace symptom checkers into the diagnostic process, allowing patients to help with that first step of creating a differential diagnosis, then the tool needs to be trusted. To be trusted it needs to be independently assessed. We constantly shout about the need for independent studies and reports on the symptom checker market, and that's really the only way we're going to get a tool that everyone is able and happy to use.
No One Should Replace a Doctor
This is another phrase we use a lot in all our literature and efforts. We believe no technology, certainly not any that could be created this decade, can replace a human, particularly in the delicate art of diagnosis. What's more, we don't think it ever should, regardless of whether it is capable of doing so. A good doctor has the amazing ability to take on board complex emotions with tact and empathy, decipher many different symptoms and clinical features, interpret the signs in sometimes pressured and time-restrictive conditions and hopefully successfully treat the patient. There are many opportunities for error, regardless of whether we use a human or a machine; it is a hazardous profession with difficult decisions to make everyday. We believe health tech can and should be used to make that process as efficient and fruitful as possible for the doctor, to help them do their job well. Replacing them takes away the crucial human element that is necessary for good healthcare.
Please let us not try to replace doctors with health technology, but provide them with well designed and tested tools to help them. In our case, that means helping them both with their own differential diagnosis and diagnostic process through the validated Isabel DDx Generator, and also with their patient engagement, allowing patients to be involved more productively in the process with the Isabel Symptom Checker.
Want to know more about our efforts to improve diagnosis, enable patient engagement and embrace health technology? Download our white papers, "Why and How to Improve Diagnosis Decision Making" and "Enabling Patient Engagement with a Symptom Checker"