Learn "Why and How to Improve Diagnosis Decision Making" in the White Paper by Isabel Healthcare, Forward by Mark Graber, MD.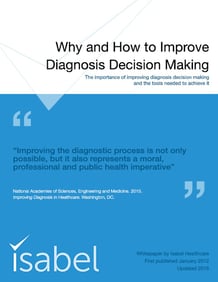 Diagnosis is the first and most important decision made about the patient. It determines all subsequent treatment and the course of each patient encounter. How well this decision is made, therefore, is one of the most significant determinants of healthcare quality and efficiency.
Read the 15 page White Paper to:
Learn the 5 major areas of improvement achievable from using diagnosis tools
Discover the main causes of diagnostic error and potential solutions
Learn what diagnosis tools are available
Get 10 tips for successful diagnosis tool adoption
Learn how to build a Return on Investment case
You will also hear from Mark Graber, MD, professor and patient safety expert, on how to avoid diagnosis errors.
Complete the form to download the White Paper today.