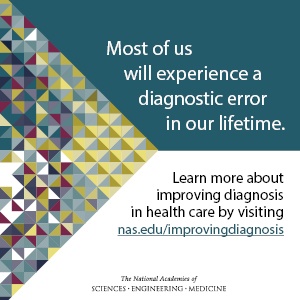 It is a sad fact of life that industries often need to be shamed, bullied or told to do the right thing rather than do it on their own accord.
The IOM landmark report "To Err is Human" in late 1999 shamed the healthcare industry into starting to tackle medical errors with the image of a jumbo jet full of people being killed every day through medical error.
Over fifteen years on, and this week the IOM has published another landmark study in its Quality Chasm series on diagnosis entitled "Improving Diagnosis in Healthcare". Hopefully it will have a similar impact in shaming the healthcare industry into finally addressing the serious issue of diagnosis quality. As the report states at the outset: "Improving the diagnostic process is not only possible, but it also represents a moral, professional, and public health imperative". The report's visceral image was the committee's conclusion that "most people will experience at least one diagnostic error in their lifetime, sometimes with devastating consequences". Although far less visual than a jumbo jet plummeting to earth in a ball of flames, the probability of each of us experiencing such an event should concentrate minds including hospital leadership who will all, one day, be patients too.
Read More