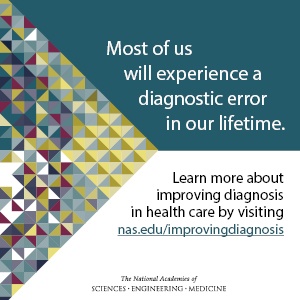 It is a sad fact of life that industries often need to be shamed, bullied or told to do the right thing rather than do it on their own accord.
The IOM landmark report "To Err is Human" in late 1999 shamed the healthcare industry into starting to tackle medical errors with the image of a jumbo jet full of people being killed every day through medical error.
Over fifteen years on, and this week the IOM has published another landmark study in its Quality Chasm series on diagnosis entitled "Improving Diagnosis in Healthcare". Hopefully it will have a similar impact in shaming the healthcare industry into finally addressing the serious issue of diagnosis quality. As the report states at the outset: "Improving the diagnostic process is not only possible, but it also represents a moral, professional, and public health imperative". The report's visceral image was the committee's conclusion that "most people will experience at least one diagnostic error in their lifetime, sometimes with devastating consequences". Although far less visual than a jumbo jet plummeting to earth in a ball of flames, the probability of each of us experiencing such an event should concentrate minds including hospital leadership who will all, one day, be patients too.
The IOM report is long at around 400 pages and is the result of a tremendous amount of research by the committee members and IOM staff. If you are new to the issue of diagnosis error, then the IOM paper covers almost everything you need. I say 'almost' as there are still some important omissions.
Overall the report is bold and its real value and purpose is to shine a light on the issue of diagnosis quality and shame the healthcare industry into working to improve it. It is the first heavyweight organization in the world to do this so we hope their message will be carried a long way.
I applaud its focus on teamwork by stating clearly that, in addition to physicians, nurses, other allied health professionals and patients are all important players in the diagnostic process. The report places a heavy emphasis on the patient and we agree that this is really important.
The report also put out strong recommendations to medical schools and accrediting institutions to focus on clinical reasoning and diagnostic skills. This is very important and should be an effective way of raising standards relatively quickly.
However, the report is extremely academic and, we feel, hamstrung from being bolder on healthcare IT and measurement.
Health IT and Isabel
The report relies on published studies for evidence about healthcare IT that will inevitably produce an outdated and biased picture, since published studies will only reflect what happened several years earlier. In a fast moving area like IT, it makes this approach almost meaningless. There was relatively little mention of diagnostic decision support tools like Isabel. It refers to these tools as "relatively new" even though Isabel has been available since 2001 and the previous generation tools such as DxPlain since the 1980s. These tools are being used by hundreds of institutions and thousands of clinicians and patients and we feel the committee should have made more effort to learn more about the impact they are already having with physicians, consumers and in medical education, on a daily basis.
Quite rightly the committee's first conclusion from compiling the report was that "urgent change is needed to address the issue of diagnostic error, which poses a major challenge to health care quality" however that urgency is tempered by its reluctance to be bolder on the issue of IT and measurement.
Differentials should be documented
The report outlines the various attempts at measurement of diagnosis over the years and admits to the difficulties of measurement because the diagnostic process is so multifactorial. It cites one researcher who states that measurement has become "an unavoidable obstacle to progress". This means that it is very unlikely we will have an agreed form of measurement anytime in the near future. In view of the urgency in tackling diagnosis and importance of having some sort of measurement, I was disappointed that the committee did not take a more lateral view and consider a measurement that is part of the process as a proxy. There is plenty of evidence to show that doing a differential diagnosis is successful in assisting the clinician to think through other potential diagnoses, along with over 100 years of experience actually teaching and doing it. Based on this, I firmly believe that, in the absence of an agreed measurement for several years, requiring a differential to be documented in the medical note and measuring whether it's there would be a good proxy measurement to start with and raise the focus on diagnosis. I have written about this previously in the "Diagnosis" journal.
Time to Diagnosis
The report also didn't look at the studies that have appeared which focus on the time to diagnosis. These studies addressing individual diseases, mainly cancers so far, have tried to establish the average time to diagnosis and the range. This is extremely useful as it establishes the average time to diagnosis for a certain disease which means we then have the key information to establish whether a diagnosis has been delayed. It would be easily possible to extend this research and establish benchmark average times to diagnosis for a meaningful body of diseases.
Overall, I strongly welcome the report as it adds considerable weight to the message that others and we have been shouting from the rooftops for 15 years or more. If all it does is get the healthcare industry to take the issue of diagnosis quality seriously and start tackling it, then it would have done a tremendous service to millions of patients.
After the report a separate article called "Reducing Diagnostic Errors-Why Now?" appeared in the NEJM authored by 2 of the IOM committee members. The article made a fascinating point that diagnostic errors, and particularly delays in diagnosis, are now much more costly than they were a few years ago due to the advent of very expensive late stage treatments. Previously, a late diagnosis meant that a patient probably died so it was 'cheap'; now it means that a late stage treatment can be given, albeit at triple or more the cost had the patient been diagnosed early! It's a strange old world….
Read our whitepaper "Why and How to Improve Diagnosis Decision Making"