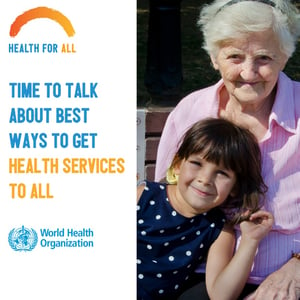 Every year we like to highlight the World Health Organization (WHO) World Health Day, and this year is no different. We've written on many subjects from food poisoning to diabetes to mental health. This year, WHO have decided to focus on Universal Healthcare (UHC), a subject which has been the driving mission behind WHO since its conception in 1948. Their "Health for All" campaign encompasses not only ensuring quality healthcare is available for everyone around the globe, but also the services and attitudes towards our healthcare systems, in order to make them as efficient as possible.
The key points of the 'health for all' campaign
The director general of WHO has said of this year's campaign: "No one should have to choose between death and financial hardship. No one should have to choose between buying medicine and buying food." This is the main aim for UHC, but it does not just mean achieving affordable healthcare for the patient around the globe, although this is a large part of it. There are many elements that make up a healthcare system, and WHO are encouraging people to look at the bigger picture this year, and help raise awareness and even inspire action into improving a healthcare system in your country. Some of the different elements are:
Patient-centered care - Placing the patient at the centre of a care system, rather than the diseases and institutions.
Healthcare providers - Looking after members of staff and the people involved in the providing care, whilst also holding them accountable to their actions.
Healthcare facilities - Ensuring everyone has access to the basic healthcare facilities. Some underdeveloped countries still do not have access to vital vaccinations, for example.
Public health campaigns - Large scale public campaigns for a particular disease or condition reach everyone and can help spread awareness and reduce prevalence.
Health technologies - The world of technology has grown exponentially, and it is important to utilize these technologies in the healthcare world. Ensuring everyone has access to this is crucial for the success of UHC.
Isabel's Mission
Here at Isabel one of our main aims is to ensure the benefits of Isabel are available to everyone, because we believe no one should be compromized with their health. We use the very latest technologies in our tool, but we pride ourselves on being just as efficient at providing medical knowledge to countries and regions where medical resources are limited, as we are at helping doctors in the busiest hospitals in the world. Our tool requires a basic internet connection and a computer or mobile device, and nothing more. As part of our core mission to provide healthcare to all, we also offer the following:
Large discounts to training medical professionals, to help improve healthcare practices from the ground up
Substantial discounts and ongoing support for clinicians and hospitals in developing countries
Our Isabel Symptom Checker for patients is available for everyone absolutely free. This means anyone with an internet connection and phone or computer can have access to resources and information on their symptoms.
Improving Diagnosis
One of our main roles to play in the mission towards UHC is in improving diagnosis. Our tool exists because of a near-fatal misdiagnosis of a young girl named Isabel Maude, and so we are always striving to improve the diagnostic process for both the patient and the healthcare provider. Stopping so many misdiagnoses can have a huge effect on the costs of an institution through cutting down unnecessary tests, re-presentations, wasted medications and even preventing malpractice cases. Our tools themselves help improve the diagnostic process by helping doctors and patients to ask the question 'what if' when viewing a more comprehensive differential diagnosis provided by Isabel, but we don't think this is where our responsibilities stop. We regularly talk about, write on and get involved in events surrounding diagnostic error and improving diagnosis. A landmark report from 2015 by the US National Academy of Medicine stated: "Improving the diagnostic process is not only possible, but it also represents a moral, professional and public health imperative" and we couldn't agree more.
We've written a white paper which goes into more depth on why we think improving diagnosis is important, and the steps we think should be taken. It's called "Why and How to Improve Diagnosis" and can be downloaded by selecting the button below.