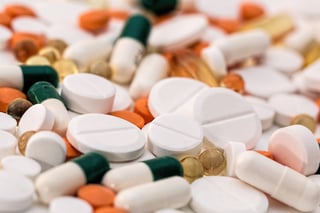 Back in 2015 we wrote a post for the New Year on pediatric medical breakthroughs of the past year. This year has been another brilliant year for finding new treatments and ways to diagnose both our most common illnesses, and also some of the more rare diseases. We've rounded up three of the landmark medical developments of 2017, as we reflect on the past year and look forward to 2018.
Research into Alzheimer's Disease
A research study conducted by Washington University School of Medicine in September 2017, led by Dr. David Holtzman, has found new understandings of a gene called ApoE, which are known to be critical in the development of the neuro-degenerative Alzheimer's Disease. The gene ApoE has four variants, and it is ApoE4 which is thought to put people at a higher risk of developing the disease. Those with one copy of the disease are two or three times more likely to develop Alzheimer's, and those with both copies of the disease are twelve times more likely. This new information is leading many others to undertake research and plan studies attempting to halt or interfere with the production of this crucial protein. It is early days with this exciting breakthrough, but hopes for a way of preventing Alzheimer's are now apparent.
Trials of Huntington's Disease Treatment
As recently as December 2017 we heard about a trial carried out by University College London into the rare but devastating Huntington's Disease (HD). This degenerative brain disease causes involuntary physical movements, mobility issues, and cognitive and emotional decline. HD is hereditary, and if just one parent has the gene carrying the disease, any children will have a 50-50 chance of developing the disease themselves. The condition presents in up to 12 people in every 100,000 so around 7,500 in the UK, and just over 35,000 in the USA. The number of those carrying the gene without presenting symptoms is thought to be roughly double those figures. We wrote a blogpost earlier in the year for Huntington Disease Awareness Month, focussing on juvenile HD. Adult HD will usually present symptoms at around 30-40 years old, whereas juvenile HD occurs when those under 20 experience symptoms. The study was carried out from 2015-2017 and involved injections into the spinal fluid. The drug, called IONIS-HTTRx, was able to access the brain and lower the protein called huntingtin which is present in the nervous system of those with the HD gene. This first human trial of the treatment has shown promising results, renewing hopes that a cure for HD could be possible.
Awaiting Approval of Migraine Drug 'Erenumab'

Only a month or so ago we heard headlines of a new miracle migraine cure, in the form of an injection. Although this drug is not yet approved by FDA and the European equivalent, a large study was carried out by researchers in the UK, USA, Austria, Sweden and Germany with very exciting results. The tested drug, known as erenumab, is thought to work by disabling the protein called calcitonin gene-related peptide, which contributes to migraine symptoms. The randomised controlled trial involved 955 adults aged 18-65 across the US, with participants receiving monthly injections, and the results showed that taking the drug could reduce the the number of days people had migraines by 50%. A few things to note, however, are that the study was not carried out on those with chronic migraine, and side effects picked up were only over the 6 months of the study and may not be the only side effects we might experience once more people start taking the drug. The study was published in the New England Journal of Medicine, and many people worldwide are seeing this as a breakthrough in migraine treatment, with the hopes that it will receive approval shortly.
Each of these medical breakthroughs are at different, crucial stages in their developments, from initial research and discovery, key studies and early trials, to final large-scale trials and eventual approval for widespread use. 2018 holds a lot of exciting developments in these three fields, as well as many others, and we look forward to seeing the medical breakthroughs in the coming year, be they in diagnosis, treatment or cures. We also have a lot of exciting things coming your way from Isabel, so watch this space for Isabel in 2018!