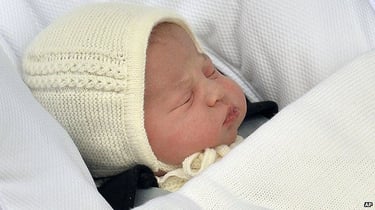 If you're a fan of the Royals, you probably spent your weekend glued to the live feeds of #RoyalBabyWatch waiting for the announcement that royal baby number 2 was on his/her way. Even if you're not one of the eager followers, it was hard to avoid the excitement as the public eagerly awaited the new addition. We finally welcomed Her Royal Highness Princess Charlotte Elizabeth Diana into the world on May 2nd 2015 at 8:34am.
The Duchess' Cambridge's birth plan was much the same as with Prince George, and indeed Prince William, with the labour and delivery taking place in the Lindo Wing of St Mary's Hospital in Paddington, London. Isabel Healthcare have strong connections with St Mary's, with Isabel Maude receiving treatment for Necrotizing Fasciitis in their Pediatric Intensive Care Unit aged 3. Isabel's parents and clinicians at St Mary's went on to found Isabel Healthcare and create the first Isabel Clinical Diagnosis Decision Support System.
For the birth of baby George, we wrote a 1 minute read post on Normal Labour and Delivery. This time round, the week of Charlotte's birth coincides with the UK's Sun Awareness Week. So to break away from the hundreds of posts on Kate's recovery plan, we've collected some information on sun care for newborns.
Why is the sun dangerous?
The sun's rays give off ultraviolet light, which are damaging to the skin and increase your chances of developing skin cancers. There are two types of UV rays, UVA and UVB. UVB rays are the ones that cause suntan or sunburn, as they affect the top layer of skin, the epidermis. Deeper into your skin, the dermis is damaged by UVA rays, which causes ageing of the skin. However, both types of rays are contributory in causing skin cancers. You can even be affected by these harmful rays when it's cloudy, so it's very important to protect yourself.
Children and babies are a higher risk
The skin of babies and children is extremely delicate and sensitive, so protecting them from the sun's harmful rays is vital. What's more, it's estimated 80% of sun exposure happens before turning 18, as children spend more time in the sun, and it is this exposure that puts them at risk later in life.
What level of SPF should I use on my baby?
SPF stands for Sun Protection Factor and is the measure of how much UVB rays can be blocked by the sun screen. SPF 15 will protect you 15 times as long as it would normally take for your baby to start burning, which can be as little as a few minutes. Sun screen also wears off after 1-2 hours, so reapplying is crucial if you are outside for any length of time. SPF does not measure the UVA ray exposure, which is the more damaging but less visible danger of sunlight. Some creams contain additional UVA protection, so these would be advisable. Furthermore, ensure you get a baby-friendly sunscreen such as these, as other brands can have harsher chemicals not suitable for your child's delicate skin.
Can babies wear sunglasses?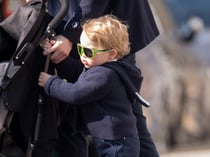 Just as babies' skin is sensitive, their eyes are delicate too. The cornea, lens and fluids are clearer in a child's eye than in an adult's, meaning harmful rays hit their eyes sooner. Even on cloudier days, it's best to put some sunnies on your baby. You can get soft bands to put around their head and keep them on. Put your child in a sun-hat too, preferably one with a brim for added protection.
The best technique - stay out of the sun
Staying in the shade wherever possible and avoiding the outside between 11-3pm is the best solution to protect your young ones from the sun. Combine this with liberal application of sunscreen, a sun-hat and sunglasses, and you can feel safe in the knowledge your baby is getting the royal treatment when it comes to sun safety.
If you're worries about your child's skin or wellbeing this summer, get informed and run their symptoms through the Isabel app, available on apple and android: