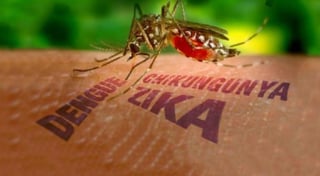 Zika virus (ZIKV) sparked a Centre for Disease Control and Prevention (CDC) travel alert to be issued last weekend. Any pregnant women, or those intending to become pregnant, are advised not to travel to 14 South American and Caribbean countries experiencing Zika outbreaks. In this blogpost, we examine what Zika virus is and the issues surrounding it, including why the CDC has issued this travel alert.
What is Zika Virus?
Zika virus (ZIKV) also known as Zika fever is a member of the Flaviviridae virus family and the Flavivirus genus which is transmitted by Aedes mosquitoes. Zika virus has been around since the 1950's and was known to occur within a narrow equatorial belt from Africa to Asia and was never seen elsewhere in the world. In 2014, however, the virus spread across the Pacific to French Polynesia then to Easter Island and in 2015 it reached pandemic status and arrived in South America, Central America and the Caribbean.
So far outbreaks of Zika virus have occurred in Africa, Southeast Asia, the Pacific Islands and the Americas. In December 2015, Puerto Rico reported its first confirmed Zika virus case. Locally transmitted Zika virus has not been reported elsewhere in the United States but cases of Zika virus have occurred in returning travellers.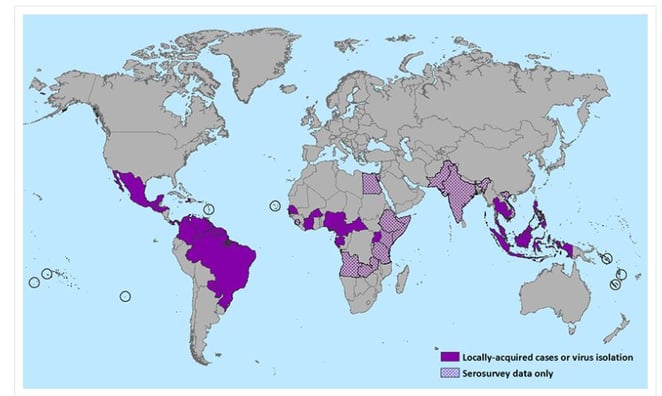 Countries that have past or current evidence of Zika virus transmission (as of January 2016) - CDC
How is Zika virus transmitted?
The virus is transmitted mainly through infected mosquito bites from the Aedes species of mosquito. Aedes mosquitoes also are responsible for spreading Dengue fever and Chikungunya. The mosquitoes lay eggs in and near standing water like vases, pet dishes and buckets. They bite during the day and live indoors and outdoors. They transmit the virus by biting a Zika infected person and then biting another person, transmitting the disease.
There have been rare cases of mother to child transmission. So far one case report has stated that Zika virus could be transmitted through blood transfusion and also one case report of spread of the virus through sexual contact.
What are the symptoms of Zika Virus?
The common symptoms of Zika are:
fever

rash

joint pain

conjunctivitis (red eyes)

muscle pain

headache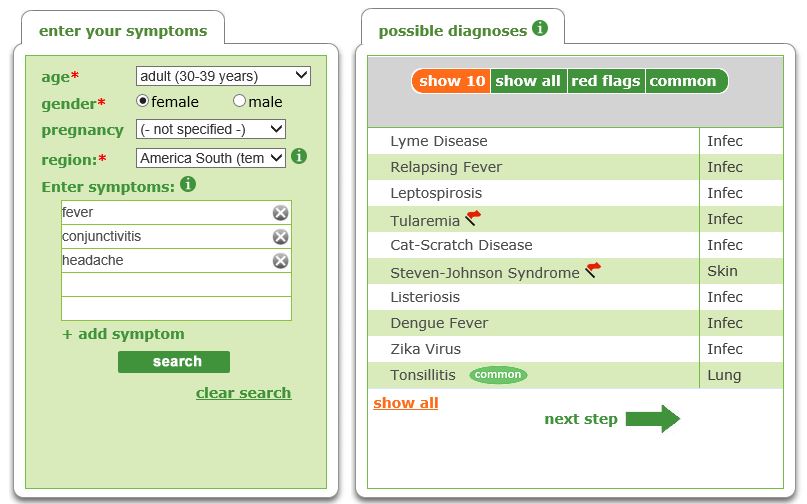 Isabel Symptom Checker - Zika Virus
The illness is usually mild and can last for several days to a week. Severe disease requiring inpatient hospitalisation is rare, as is death from Zika virus. About 1 in 5 people who are infected with Zika virus will become ill and develop the symptoms as detailed above. The symptoms of this virus are very similar to Dengue fever and Chikungunya.
What is the treatment for Zika Virus?
There are no vaccines or medications available to treat Zika virus. The symptoms can be treated by getting plenty of rest, drinking fluids to prevent dehydration, and by taking pain and fever relieving medications such as acetaminophen or paracetamol. Most importantly, aspirin and nonsteroidal anti-inflammatory medications should be avoided until Dengue fever has been ruled out.
What should I do if I think I have Zika virus?
If you develop symptoms similar to above and have travelled recently to Zika virus region, then you can use an online symptom checker such as Isabel to check your symptoms which will also allow you to alter the region to where you travelled. You should also discuss your symptoms and possible causes of those symptoms with your healthcare provider. Your healthcare provider may decide to order blood tests to look for Zika virus, Dengue or Chikungunya which have similar presentations.
Inform your healthcare provider of the areas you travelled to, when you travelled and if you received mosquito bites. During the first week of infection, Zika virus can be found in the blood and can be transmitted by mosquito bites.
Why the CDC alert?
The CDC issued a travel alert on 15th January warning women who are pregnant or planning to get pregnant not to travel to 14 countries where Zika virus is currently found. This was due to the fact Zika virus can spread from a pregnant woman to her unborn baby. There has been reports of a serious birth defect of the brain known as microcephaly and other poor pregnancy outcomes including miscarriages in babies of mothers who were infected with Zika virus whilst pregnant. The link between Zika virus and these outcomes is evolving and not fully understood yet and so the CDC has recommended that, in the interim, special precautions for these groups of people should be put in place.
What can I do to prevent Zika Virus transmission?
If travelling to a Zika endemic area then the best thing you can do is protect yourself from mosquito bites:
Use insect repellents containing DEET, picardin, IR3535

If applying sunscreen as well – apply sunscreen first and then repellent

Wear long sleeved shirts and trousers

Use air conditioning, mosquito nets or door screens to keep mosquitoes out of the building

Avoid areas with standing water
If you have Zika virus avoid mosquito bites as much as possible during the first week of infection, as this will prevent the disease being transmitted to others via the insects' bites.
Further information:
Healthcare Provider Information
If your are concerned about your symptoms and suspect Zika Virus, run your symptoms through the Isabel Symptom Checker, available as an app on iphone and android: