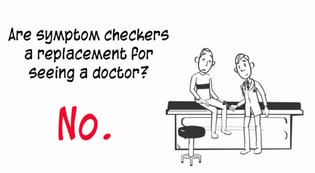 With the rise in Internet use over the past decade or so, health information is now at people's fingertips and symptom checkers are becoming a part of everyday life. Pew Research Center state that one third of United States citizens have gone online to research their symptoms and try and figure out what their symptoms are. Interestingly they also found that 77% of online health seekers began their search using a search engine such as Google or Bing. Another 13% said they started at a site that specializes in health care information like Isabel or WebMD.
A symptom checker is an online program into which a person enters their symptoms using everyday language. A list of possible diagnoses the person could have based on those symptoms is then generated. Some symptom checkers also include a triage functionality, which advises the person on the best place to seek help. This could be the emergency room, a primary care physician, self-care or maybe seeking advice from a pharmacy.
Harvard Medical School researchers have recently conducted a study analyzing 23 symptom checkers available on the internet and published their research in the British Medical Journal (BMJ) last week. The study is to be welcomed as published research into symptom checkers is limited. The study ran 45 vignettes of patient case studies, commonly used by medical students within their training, to see how the symptom checkers performed with regards to obtaining the final diagnosis. They also tested, if available, how appropriate the results in the triage functions were with regards to advising the patient where to go to seek appropriate treatment. Overall, the study indicated that symptom checkers are more beneficial than just using a standalone search engine. Here is an overview of the study:
The cases used in the study ranged from diagnoses of heart attack or liver failure, to more simple diagnoses of a bee sting or eczema. The Isabel Symptom Checker was included in the study, and was ranked first in terms of listing the final diagnosis the researchers were looking for in the top 20 suggestions. Study results varied with regards to triage results but the study did determine that, in the cases where the person was seriously ill, Isabel advised Emergency Room treatment 80% of the time, which was correct for the cases entered. The systems reviewed didn't perform so well in the cases where self-treatment was advised; they tended to err on the side of caution and advise the person to seek help from a medical provider.
Our interpretation of the data
On further analysis of the cases used we have found the results are to be expected, the cases used were very clinical, due to them being used to teach medical students. Many of the self-care cases had medical information in them which would only be elicited by a medical professional asking further questions during an examination. For example, there was the case of the boy who presents with a past respiratory infection and a three day history of a red, irritated right eye. The final diagnosis was conjunctivitis, and self-care was recommended. In this case he was seen by a medical professional for an examination to rule out more serious symptoms including photophobia and unequal/unreactive pupils, which could have indicated a more serious diagnosis requiring more urgent evaluation. It may have been better to use self-care cases which didn't involve a doctor consultation.
Isabel's list of potential diagnoses is generated based on age, gender, global location and the symptoms entered, therefore, it is not a final diagnosis tool; it is a research tool which enables the patient to research their symptoms and discuss the findings with their medical practitioner as partners in care. Equally the 'Where to now?' function, which advises on where to seek medical treatment, is not based on the diagnosis selected from the list but works off the symptoms entered, along with seven general questions related to those symptoms. So for a patient with a red, irritated eye the range of diagnoses will include diagnoses from conjunctivitis to orbital cellulitis, which would require treatment with antibiotics. Therefore, the triage function would advise seeing a medical practitioner, as only they can make the differentiation between the two disorders; that is why we have Doctors. Symptom checkers are not meant to replace Doctors, but to empower the patient to have fruitful discussions with their healthcare providers.
Other considerations for the study
We've come up with a list of things we think weren't covered in the study, and can be used as areas for future research with regards to symptom checkers:
Using cases from everyday consumers using non clinical language.

The number of diagnoses covered by the various smptom checkers varies greatly and maybe should be an area for future study. Those symptom checkers like Isabel which cover many diagnoses have more information to search in order to return a list of possible diseases. This can affect the results from one symptom checker to another including the triage advice.
Ease with which a list of symptoms and triage advice are generated – quite a few symptom checkers ask many pages of questions and then may not give a final list of potential diagnoses but encourage you seek help immediately.
The next steps provided - after producing a list of diagnoses, many symptom checkers also have patient information linked to the diseases, and the impact of this information wasn't included in the study. The patient information provided acts as a prompt for the consumer to consider other symptoms they may have and become more informed before seeking help.
How a symptom checker can change a consumer's cognitive thinking – many symptom checkers raise red flags, which may make the consumer think more deeply about the symptoms they are experiencing and seek help in a more proactive way. There are also consumers who have embarrassing symptoms, so seeking help from a symptom checker first is less intimidating than discussing with a health professional in the first instance, and may also help them formulate future discussions.
Check out the Isabel symptom checker here. We also have an app version available on apple and android: