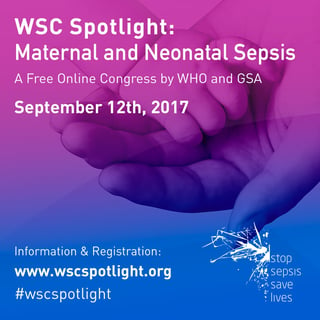 Here at Isabel Healthcare we have often blogged and talked about sepsis and the dangers of this life threatening infection, particularly in children. Isabel started out as a pediatric tool following the near fatal misdiagnosis of a 3 year old girl, and so we have always been very conscious of raising awareness for 'red flag' diagnoses in children, and now adults as well, so they are not missed in the often narrow timeframe. September every year sees World Sepsis Day, this year on September 13th, supported by both the World Health Organisation (WHO) and the Global Sepsis Alliance (GSA). What's more, this year on September 12th, the organisations will be running "WSC Spotlight," a free online congress for physicians focussing on maternal and neonatal sepsis, so we really wanted to highlight this and give some background into the disease presentation in mothers and babies, in preparation for the WSC Spotlight and World Sepsis Day as a whole.
What is Sepsis?
Sepsis, sometimes referred to as blood poisoning or septicemia, is a disease caused by the body's disregulated response to an infection. The infection itself can stem from anything such as a simple cut, to a more severe infection like pneumonia. The immune system reacts to an infection by releasing chemicals to fight it. In a septic patient, however, too many chemicals are released causing inflammation. This in turn causes multiple issues as the blood vessels weaken and blood clots form around the body. In the most serious cases the patient suffers septic shock, where blood pressure falls dramatically, and patient can experience multiple organ failure, and sometimes this can be fatal.
Who is at risk of Sepsis?
Anyone who has an infection, no matter how small, is at risk of developing sepsis. However, there are some groups of people who are more at risk of this condition. Those more at risk are:
Babies and infants
The elderly
Pregnant women
Those with preexisting conditions which weaken the immune system e.g. HIV
Those receiving treatment which weakens the immune system e.g. chemotherapy
Those with a long term health condition e.g. diabetes
Maternal Sepsis
Earlier this year, WHO took part in a large report and assessment to reach a consensus for a definition of maternal sepsis. Up until then, the details of what is defined as maternal or postpartum sepsis were confusing. Following the report, the new WHO definition of maternal sepsis is as follows: "Maternal sepsis is a life-threatening condition defined as organ dysfunction resulting from infection during pregnancy, child-birth, post-abortion, or post-partum period." This encompasses all possible stages of a pregnancy and subsequent childbirth.
A woman's body goes through a lot during pregnancy, and the physiological changes that take place are also accompanied by a weakening of the immunological functions. Women going through pregnancy should be aware of the higher risk of infections and septic response to those infections, and be vigilant in noticing a change in their health, particularly if they have, or suspect they have, an underlying infection. The main initial symptoms of sepsis are:
A fever above 101ºF or a temperature below 96.8ºF
Heart rate higher than 90 beats per minute
Breathing rate higher than 20 breaths per minute
Probable or confirmed infection
During childbirth, the body is placed under immense stress and there are many risks involved and the high potential for an infection. Spotting sepsis in mothers during or straight after childbirth can be difficult, as the body's response to the experience often presents with symptoms very similar to those of sepsis, such as fatigue, an increased heart rate and a high temperature. For this reason it is very important for sepsis to be high on any differential during maternity care. Isabel suggests sepsis as a more likely, red flag diagnosis when the symptoms of sepsis are entered for a full term pregnant woman, and this should always be on a physician's mind when assessing a woman during and after labour.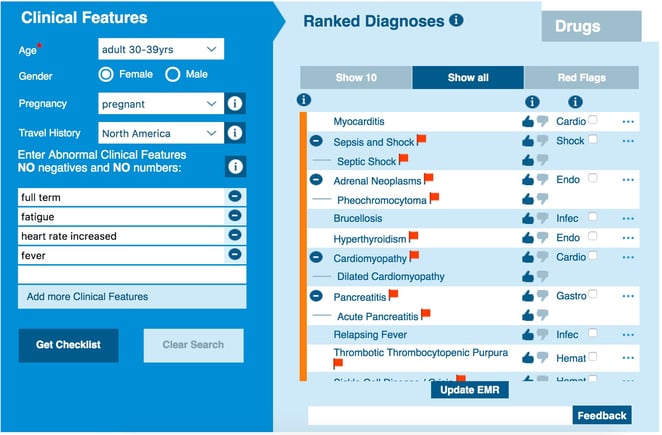 Neonatal Sepsis
Babies and infants are constantly developing their bodies when born, adjusting to life outside the womb. This includes developing a robust immune system, and this is helped by pediatric immunizations. Before immunizations however, and in the first few weeks of life, babies are much more vulnerable to infections, and a reaction to those infections such as sepsis. Premature babies are even more at risk, with around 70% of neonatal cases occurring in preterm neonates. There are two types of the condition, known as early-onset neonatal sepsis and late-onset neonatal sepsis.
Early-onset neonatal sepsis
Early-onset neonatal sepsis is defined as occurring within 72 hours of birth, but usually happens within the first 24 hours. Early-onset is most commonly acquired from microorganisms passing from the mother to the baby during childbirth, which in turn causes a septic reaction in the baby. The most common bacteria that get passed on this way, usually through the birth canal or transplacentally, are E. coli, Group B Streptococcus (GBS) and Staphylococcus. Noticing infections in the mother is key to preventing sepsis in neonates, and premature babies particularly should be monitored closely for any signs of an infection or sepsis.
Late-onset neonatal sepsis
Late-onset neonatal sepsis occurs anywhere from 4-90 days after birth, and is acquired through the baby's environment, or through microorganisms in the umbilical stump. Conditions such as pneumonia, bronchitis, conjunctivitis, and many others are all common in newborns and these infections leave the baby open to a septic reaction. An infection can also be caused by skin rashes, contaminated bottles or through the mother's breast in the case of mastitis. Staying vigilant with cleanliness and sterilization is extremely important in the first few weeks of a baby's life, as well as treating any infection promptly and with more urgency than we would an older child or adult.
The symptoms for either types of neonatal sepsis are as follows:
Less activity or a limp body
Less vigorous sucking when nursing or something is offered to the mouth
Disturbed sleep
Difficulty breathing
Temperature instability (hypothermia or hyperthermia)
Prompt diagnosis and treatment of both neonatal sepsis and maternal sepsis are paramount. If caught early, antibiotics will work in treating sepsis, but if left undetected or untreated, sepsis shock can develop which can cause life-changing complications or even death. If you suspect anything is wrong with a pregnant mother or neonate, place the clinical features into a tool like the Isabel DDx Generator and consider all the ranked diagnoses which are suggested, particularly those with a red flag.