Isabel Healthcare is pleased to announce that we offer ICD-10-CM coding into all our products. This includes Isabel the Diagnosis Checklist, the Isabel Symptom Checker, Isabel Active Intelligence and the Isabel Clinical Educator.
Why is ICD-10 needed?
ICD stands for International Classification of Diseases. Believe it or not, ICD-9-CM was introduced more than 30 years ago and today's healthcare data needs are dramatically different to those in the 1970's. ICD-9 is not able to accurately describe diagnoses and inpatient procedures for the care now being delivered. For Electronic Health Record providers or hospital systems which have integrated Isabel seamlessly in their work flow using ICD-9, there are many benefits of upgrading to ICD-10, and it will advance healthcare in many ways. There will be more streamlined access between Isabel and the system you are integrated into, which will lead to a better workflow and harness the power of both systems.
Measuring Quality
ICD-10 offers greater detail and increased ability to accommodate new technology and procedures which are now available. The codes have the potential to provide better data for evaluating and improving the quality of patient care. ICD-10 allows greater expansion of the codes for medical complications and medical safety issues. It informs better clinical decisions made between Isabel and the integrated system as data is better documented, collected and evaluated.
Complete, accurate and up to date procedure codes will improve data, efficacy and costs of new medical technology, and ensure fair reimbursement for the use of this technology. Using Isabel's ICD-10 coding with your system will ensure you are effectively reimbursed for any diagnoses made using Isabel in your clinical workup.
Public Health Changes
Up until now the US has lagged behind the rest of the world by not using the ICD-10 code set. By ICD-10 being introduced into the US market it will allow the US to share morbidity data internationally, and gives the US the ability to track and respond to global threats in real time. It can compare public health trends with global pandemics which will influence public health policy. ICD-10 is more effective at capturing public health diseases than ICD-9 as its more specific, and fully captures more of the nationally reportable public health diseases, as well as those related to the top 10 causes of mortality and bioterrorism.
Isabel features a separate bioterrorism search, which can be used to aid any bioterrorism clinical queries. Isabel also covers many public health diseases in its general search, and could help with predicting public health trends through your integrated system - all with enhanced coding using ICD-10.
Influence on Research
ICD-10's code is more structured and easy to negotiate than ICD-9 and, therefore, it is hoped this will lead to better coding decisions. It allows accurate classification of 'nature of injuries,' correlating them with cause, treatment and outcome. Code analysis is an essential component of research in which there is no direct access to patient medical records. Greater visibility by accurate ICD-10 coding offers the ability to discover previously hidden relationships, or uncover phenomena such as an incipient epidemic early. This will tackle the epidemic head-on, reducing the costs of late diagnosis of the epidemic earlier, and helping avoid complications associated with that epidemic. ICD 10 coding will also improve design of protocols and clinical pathways for health conditions. It will progress research, clinical studies and epidemiological studies.
Essential for Health IT Advancement
Upgrading to ICD-10-CM will allow Health IT potential to be realized. The ICD-10 data is more easily retrieved in electronic format than ICD-9 data. As the code set is more robust and up to date it offers better mapping to SNOMED CT which captures the clinical detail of a care episode. (Isabel also offers SNOMED CT coding). These mapping systems facilitate Computer-Assisted Coding (CAC) which offers improved consistency, efficiency and accuracy. Thereby, upgrading to ICD-10 from ICD-9 offers a more robust and detailed system like SNOMED CT has been offering for some time. Be at the forefront of health IT advancement and upgrade your Isabel integration to ICD-10.
Reimbursement Changes
ICD-9 was not produced for reimbursement purposes. This use of ICD-9 for reimbursement came into use after it was implemented. Due to the increase in codes of ICD-10-CM it offers a better system for building payment systems.
Accurate payments for procedures involving new technology could be a benefit of ICD-10 as these procedures could be uniquely identified.

Risk adjustment for capturing patient behaviour such as smoking, alcohol intake, poor diet and exercise habits can be uniquely identified in ICD-10 codes

As more codes are available in ICD-10 it is easier to compare reported codes with clinical documentation, check for consistency between diagnosis and procedures ordered, as well as check for illogical combinations of diagnoses. This will help reduce fraud and also remove the grey areas of coding which have existed in ICD-9.
Who Benefits?
To the Physician ICD 10 is an administrative burden; systems need coding in the new language and you have to learn the new coding system, which is much more diverse and has more options available. The Physician's job is diagnosing and treating a patient. Finding the right codes to fit with that patient's presentations is not going to help the patient get better in their opinion. Ultimately though, by assigning the correct codes and streamlining the process with ICD-10, coding the patient will ultimately benefit from accurate diagnosis, correct treatment and hopefully with more accurate costs. ICD-10 will allow the capture of specific and objective data to support Physicians in their professional Maintenance of Certification reporting across the specialties of patients they have cared for.
Technology has moved on so it is only correct that the coding systems used in the US for healthcare also reflect this and finally become up to date. Isabel has released its ICD-10 coding, so upgrade your system using its specific ICD-10 coding and realise your system's full potential in a fully integrated work and care pathway.
For those who have experienced ICD-10 overload here is some light relief: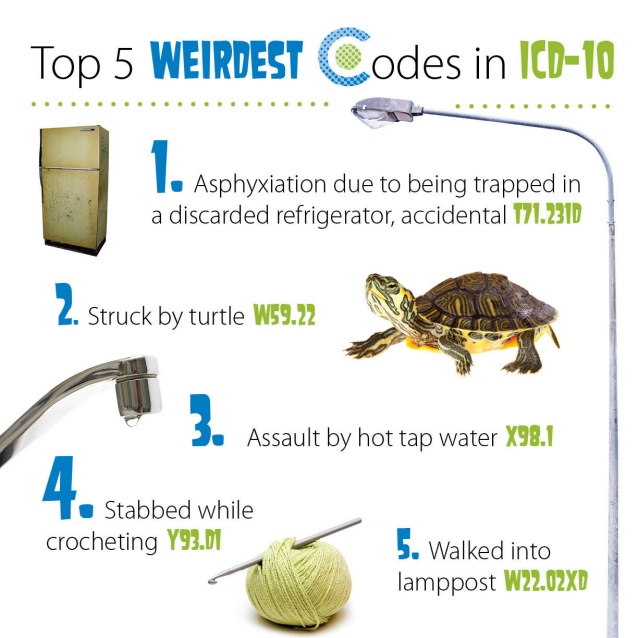 Have you downloaded our new eBook yet? Helping you implement a new tool like Isabel into your institution: