If you're a regular user of our tool, you may have noticed a few changes to the Isabel Pro website and tool (version 5). We've had a makeover! If you haven't had a look yet, pop over to the new website and we'll explain everything that's changed in this blogpost.
The Isabel Differential Diagnosis Generator - Version 5
Our Isabel Differential Diagnosis (Ddx) Generator has been enhanced, modernized and streamlined, while retaining the same great features and simplicity that helps clinicians worldwide with their differential diagnosis every day.
While the basic functionality of the Isabel tool hasn't changed, there are a few improvements to the screens and layout, to make the user experience easier and quicker. In a nutshell, travel history can now be entered on the first entry screen, the layout is more ergonomic, the knowledge page has a cleaner presentation and mobile access credentials are even more easily retrieved. One key feature added to Version 5 is behind the scenes where there have been extensive security and anti-hacking updates added.
To learn more, we've created an infographic to showcase the new layout and explain where you can find your favorite elements of the Isabel DDx Generator. Simply select the image or click here to see the full-size image, or click here to download the PDF.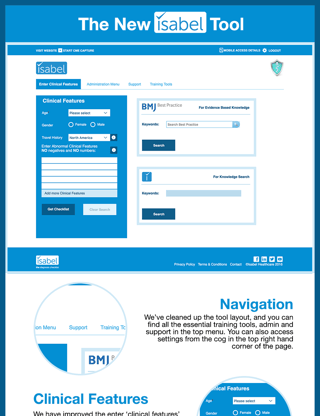 The isabelhealthcare.com Website
Our website, isabelhealthcare.com is a brilliant resource for all things related to Isabel and diagnosis error.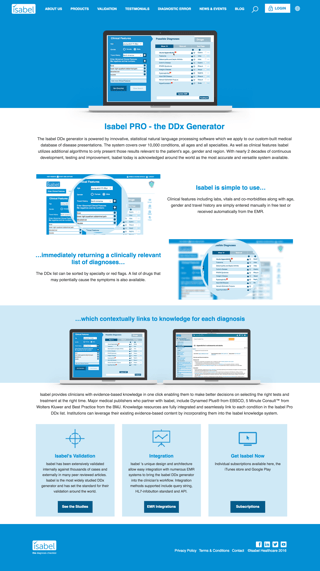 We have updated the website in line with the new tool, with fresh new fonts, colours and style, as well as completely rethinking our website layout to make it simple and intuitive. Everything is now much easier to find with a simple navigation, and the large graphics mean we can really show off the tool that makes Isabel such a forerunner in the medical diagnosis field. Here's a breakdown of the new layout and where you can find everything:
About Us
It's Isabel's story that makes our company so unique, and this is now outlined clearly, along with details of the Isabel team.
Products
All our products are showcased simply and beautifully in one section, so you can see a breakdown of the different solutions Isabel has for medical institutions.
Validation, Testimonials and Diagnostic Error
We've cleaned up our library, highlighting the most important studies, both on Isabel and the wider diagnostic error field. You can find validation studies of our products, as well as testimonials from our valued clients, and even some of our recommended pioneering studies on diagnostic error.

News and Events and Blog
Finally, keep up to date with everything we're up to. This includes events we're attending and subjects we're talking about or reading up on, with our news and events page, and our Isabel Healthcare blog.
So take a look through our new website and tool, and let us know what you think. We hope you love the new designs and enjoy continuing to use the world's leading differential diagnosis generator. There will be many more changes and updates in the months to come, including updates to the blog and symptom checker website, so watch this space.
Sign up to the Isabel Healthcare Blog to get regular updates on us, information and advice surrounding medicine.