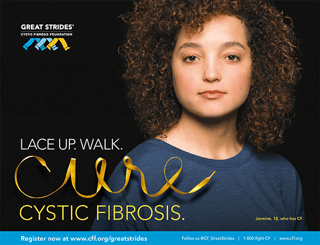 May brings with it springtime, warmer climates for some and a high pollen count for most of the northern hemisphere. However, you may not know that it also represents Cystic Fibrosis Awareness Month. The Cystic Fibrosis Foundation is one of the biggest and longest standing non-profit organizations devoted to raising awareness and finding a cure for the disease, and has been doing so since it was established in 1955. Most of the drugs and treatments now available for CF patients are due to the campaigning of CFF, and it means a disease which used to be thought of as a childhood disease, now has over half of patients living past the age of 47.
What is Cystic Fibrosis
Cystic Fibrosis is a genetic, progressive disorder which mainly affects the lungs, CF patients are not as able to control the salt levels within their body which causes mucus to build up in the lungs and around other organs. This means they struggle to breath and are more susceptible to lung infections. The disease gets worse over time, so steps are taken to lessen the symptoms and slow down the speed of decline in the lungs. The condition also affects how the body makes enzymes, causing issues with the pancreas and digestive system. There are many strands of the gene, and depending on which one you have, there are many other complications to add to the list, including liver disease and issues with weight.
Cystic Fibrosis can only develop if there are two faulty CF genes inherited from both biological mother and father. This makes it quite rare, at about 30,000 people in the US and just under 11,000 in the UK. However, as many as 10 million people in the US unknowingly carry the gene in a dormant form, so you may not be aware of the gene in your own family tree, which is why awareness of the disease is key to finding a cure and eradicating the disease.
CF patients meeting together
CF is a complex disease with many different manifestations, symptoms and infections on top of the declining lung function. No two cases of CF are exactly the same, and one patient with CF meeting with another can have very negative impacts, as they pass on the infections they may have fought to others, causing each patient's condition to worsen. For that reason, it is not recommended that CF patients meet at support groups regularly, or spend an extended period of time together. This means foundations like the Cystic Fibrosis Foundation are paramount in connecting the dots in research, as well as bringing people affected by the condition together, through the power of the internet. There are many forums and a great blog on the CFF website, as well as some great resources on YouTube, including a channel called "The Frey Life," where a couple talk about living with CF (and their service poodle, Ollie).
Great Strides CF walk
The entire month of May has the CFF pushing research and awareness, but it culminates each year in the foundation's biggest fundraising event,the Great Strides walk. Anyone and everyone who has been affected by or wants to raise awareness is invited to take part in sponsored walks all around the USA. There are, of course, strict rules for those with CF taking part, as patients are recommended to remain several feet away from each other, and all participants must regularly wash hands and maintain excellent hygiene. However, each year it is totally worth these minor issues, and the foundation fundraise millions for the cause and for research into the condition. You can read more about and sign up for a walk near you here, and at the time of writing, the campaign had raised $11 million of it's $41 million target. So sign up for a walk and get supporting, donating and raising awareness of CF!
Useful resources:
The Cystic Fibrosis Foundation: https://www.cff.org
The Cystic Fibrosis Trust (UK): https://www.cysticfibrosis.org.uk
CF mothers' forum: https://cfmothers.com/
The Frey Life: https://www.youtube.com/user/thefreylife