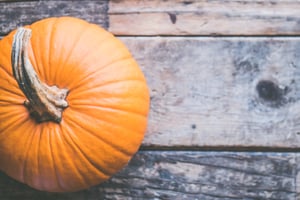 Yesterday saw 31st October, a day when many choose to celebrate Halloween, dressing up in scary (and some not so scary) costumes and to do a round of trick or treat. Isabel started out as a tool for pediatrics following the misdiagnosis of a 3-year-old girl, before extending into all ages and regions. For that reason, children's medicine and hospitals will always be close to our hearts and we wanted to highlight the great work they do. The world of costumes, entertainment and imagination is never too far away from a children's ward, so Halloween is an opportunity to truly get into the spirit - after all, the holidays are only around the corner! We've taken our favourite tweets and pictures of the incredible pediatric staff in US and UK hospitals, sported a costume or two this Halloween.
Children's Mercy
@ChildrensMercy
Children's Mercy is one of the top pediatric institutions of America, situated in Kansas City. Having been founded in 1897, they lead with an ethos of compassionate, comprehensive care and are constantly pushing the boundaries of what is possible in medicine. They also regularly wear costumes to entertain their patients, so Halloween seemed to just be another normal day for them!
#Halloween or just a typical Wednesday?? It's sometimes tough to tell at a children's hospital. 😂😂 pic.twitter.com/9A8EsISmnd

— Children's Mercy (@ChildrensMercy) October 31, 2018
Great Ormond Street Hospital (GOSH)
@GreatOrmondSt
This amazing London based children's hospital is run by the NHS and supported by the GOSH charity. It was the first hospital dedicated to pediatrics in the English speaking world. They have 63 different clinical specialities and deal with the most challenging cases from around the world, using innovative treatments and brilliant staff. The charity and hospital also fully support the vision of making children's hospitals as comfortable and caring as possible, and to that end this year they had a Halloween party. It was a great success, with ward decorating competitions, costumes and lots of fun!
Our GOSH #Halloween party rocked! A wonderful rogues' gallery of winsome witches, web crawlers, tiny tots in creepy costumes, demonic dinosaurs and enchanting elves across ward and Lagoon. To all our patients, families, volunteers and staff, huge thanks! It was unforgettable!👻🕷️ pic.twitter.com/bywLOaUTUD

— Great Ormond Street Hospital (@GreatOrmondSt) October 31, 2018
Boston Children's Hospital
@BostonChildrens
One of the largest pediatric medical centers in the US, Boston Children's Hospital, pride themselves on their physicians and nurses, many of whom have been recognized independently for overall excellence. They also have close links with Harvard Medical School and operate a teaching hospital. They have over 10 locations across the whole of Boston, so it's only right that they support their home ice hockey team, the Boston Bruins. Team mates dressed up as superheroes, with Patrice Bergeron as Batman and John Moore as Superman.
Happy Halloween from Boston Children's Hospital! Check out some highlights from the @NHLBruins superhero-themed visit: https://t.co/lT0bJVcQgd pic.twitter.com/marMWdikjb

— Boston Children's (@BostonChildrens) October 31, 2018
Cedars-Sinai
@CedarsSinai
LA based Cedars Sinai actually provide care for some of the top LA athletes, from the Dodgers to the Rams. They may not be a solely pediatric institution, but in their own words, they "bring the same extraordinary dedication, skill and expertise of our adult care to children." Pioneering technologies and physicians with many years of experience in the field mean they have a great pediatric department. What's more, they also have a brilliant Twitter, sharing patient stories and pictures every day. One such picture is of their pediatric department, really getting into the spirit of Halloween.
Happy #Halloween! We love that our pediatrics team is getting into the spirit today! 👻 pic.twitter.com/pQghmubnUg

— Cedars-Sinai (@CedarsSinai) October 31, 2018
Birmingham Children's Hospital (BCH)
@Bham_Childrens
Last but not least is the UK's Birmingham Children's Hospital (BCH), with the largest ICU dedicated to pediatrics in Europe. They have a leading pediatric teaching center, and have many specialties, making them the leaders in neurology, leukemia and bone marrow transplants for children, among others. BCH had many fundraising events over the last few days around Halloween, including a great looking bake sale!
Happy #halloween! Are you doing any spooktackular fundraising today? Tweet us your pics! pic.twitter.com/sD4Zhkmoj3

— Bham Children's Hosp (@Bham_Childrens) October 31, 2018
We hope you enjoyed your Halloween if you did get involved! And for those of you who unfortunately have loved ones in children's hospitals around the world, or if you're there yourself, we hope you are well looked after, and you managed to see some great costumes yesterday!