The
Isabel diagnosis
tool searches an extensive database of conditions for differential diagnosis support, and we often will test its accuracy with real patient cases from the New England Journal of Medicine.
About the Isabel Diagnosis Challenge
The New England Journal of Medicine (NEJM) publishes interesting presentations of common diseases and unusual cases in the Clinical pathology Conference (CPC) series. These cases are educational and can pose diagnostic challenges even to the expert physicians at the Massachusetts General Hospital.

Using the clinical features of these cases you can evaluate your own diagnostic skills and compare your diagnostic performance to that of the physicians at MGH. If you are registered with Isabel as a client or have a free-trial subscription, you can use the diagnosis reminder system and run through some scenarios to get a list of likely suspects. Clicking on a diagnosis will take you through to various knowledge sources and links available from within Isabel.
Today's Case
Demographic: Female, 60 years, North America
Clinical features:
inability to walk

hypereflexia

leg stiffness and cramping

short term memory loss

progressive confusion

lightheadedness
STOP! Before you read further you might want to construct your own final diagnosis
In the following section you will find:
The final diagnosis of the case
Did Isabel suggest the final diagnosis
Final Diagnosis of the case according to NEJM:
Paraneoplastic stiff person syndrome and limbic encephalitis with anti-amphiphysin antibodies. Invasive ductal carcinoma positive for metastasis.
Was the final diagnosis given by Isabel:
Yes, (i) Stiff person syndrome in Neuro
(ii) Limbic encephalitis in Infectious
Isabel Checklist Differential: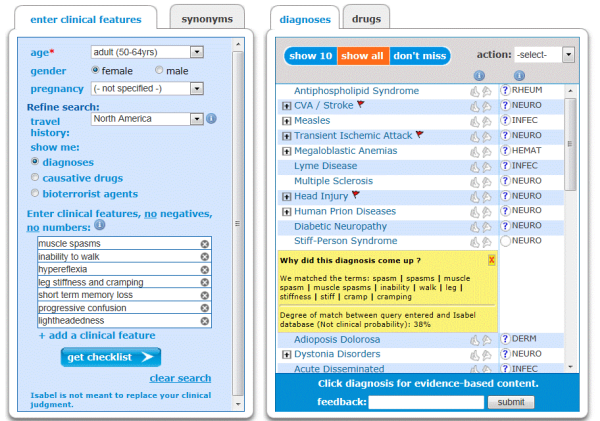 Overview of final diagnoses:
Stiff-Person Syndrome (SPS) - is a rare neurological autoimmune disease. It is characterized by fluctuating muscle rigidity in the trunk and limbs plus heightened stimuli to noise, touch and emotional distress which can trigger muscle spasms. Abnormal posturing including stiffness are hallmarks of the disease. SPS occurs twice as frequently in women compared to men. SPS is can occur with other autoimmune diseases such as diabetes and thyroiditis. The cause of SPS is not yet known although its due to an automimmune response originating from the brain and spinal cord. A diagnosis can be made of SPS by ordering the level of gluctamic acid decarboxylase (GAD) from the blood as SPS patients have elevated GAD levels.
Limbic encephalitis - is a disease characterized by brain inflammation. Its can be caused by autoimmunity or due to a variety of infectious diseases that involve the brain tissue. The disease is characterized by fever, rash, parotitis, lymphadenopathy, optic neuritis and an altered mental state. The diagnosis of limbic encephalitis is important as the etiology of the disease needs to be established so treatment can begin with the correct medicines to treat the cause such as acyclovir, steroids, IVIG or plasma exchange. Life threatening complications can develop if the disease is not recognized.