Isabel Diagnosis spotlight on: Ebola Virus
Article Summary
Ebola is an aggressive virus and requires swift diagnosis, medical attention and containment. Mobile diagnosis applications and clinical decision support can be of great help to assist clinicians in diagnosis and treatment, as mobile access has the distinct advantage over desktop programs in countries that lack onging power sources.
Ebola causes severe viral hemorrhagic fever and death results in 25%-90% of cases. Ebola first appeared in 1976 and primarily occurs in remote villages in Central and West Africa near tropical rainforests. Since 1976 there have been regular outbreaks of the various strains of Ebola, as can be seen from the World Health Organization below:
Table: Chronology of major Ebola haemorrhagic fever outbreaks (as of May 2012)
Year

Country

Virus subtype

Cases

Deaths

Case fatality

2011

Uganda

Ebola Sudan

1

1

100%

2008

Democratic Republic of Congo

Ebola Zaire

32

14

44%

2007

Uganda

Ebola Bundibugyo

149

37

25%

2007

Democratic Republic of Congo

Ebola Zaire

264

187

71%

2005

Congo

Ebola Zaire

12

10

83%

2004

Sudan

Ebola Sudan

17

7

41%

2003

Congo

Ebola Zaire

35

29

83%

(Nov-Dec)

2003

Congo

Ebola Zaire

143

128

90%

(Jan-Apr)

2001-2002

Congo

Ebola Zaire

59

44

75%

2001-2002

Gabon

Ebola Zaire

65

53

82%

2000

Uganda

Ebola Sudan

425

224

53%

1996

South Africa (ex-Gabon)

Ebola Zaire

1

1

100%

1996

Gabon

Ebola Zaire

60

45

75%

(Jul-Dec)

1996

Gabon

Ebola Zaire

31

21

68%

(Jan-Apr)

1995

Democratic Republic of Congo

Ebola Zaire

315

254

81%

1994

Cote d'Ivoire

Ebola Ivory Coast

1

0

0%

1994

Gabon

Ebola Zaire

52

31

60%

1979

Sudan

Ebola Sudan

34

22

65%

1977

Democratic Republic of Congo

Ebola Zaire

1

1

100%

1976

Sudan

Ebola Sudan

284

151

53%

1976

Democratic Republic of Congo

Ebola Zaire

318

280

88%
World Health Organization, Ebola hemorrhagic fever factsheet, No. 103
Uganda Ebola Outbreak
Uganda is currently experiencing a 2012 outbreak of the Ebola Sudan strain which started in July, and so far 16 people have died and a total of 165 people in the region are currently being observed for signs of the disease.
About Ebola and Symptoms
Ebola in humans occurs due to close contact of blood, secretions, organs or other bodily fluids of infected animals. Infection in Africa has been caused by the handling of infected chimpanzees, gorillas, fruit bats and monkey found dead or ill in the rainforest.
Once transferred to the human population it then spreads via human-to human transmission resulting from close contact with blood, secretions and bodily fluids of infected people. It has been found that transmission from infected semen can occur up to seven weeks after clinical recovery from Ebola. Funeral ceremonies where the mourners have direct contact with the deceased person who has had Ebola can also result in transmission.
The signs and symptoms of Ebola hemorrhagic fever can include:
Sudden onset of high fever
chills
headaches
myalgia
anorexia
intense weakness
vomiting
diarrhea
maculopapular rash
abdominal pain
low white cell count
low platelets
elevated liver enzymes
The incubation period (time of infection to onset of symptoms) is between 2 and 21 days.
Other differential diagnoses to consider with similar symptoms to Ebola include:
Malaria
Typhoid
Shigellosis
Cholera
Leptospirosis
Plague
Rickettsiosis
Relapsing fever
Meningitis
Hepatitis
Other viral hemorrhagic fevers
Treatment of humans infected with Ebola is intensive supportive care to prevent multiorgan failure developing. Patients are frequently dehydrated and need intravenous fluids and replacement of electrolytes. No specific treatment or vaccine is yet available for Ebola hemorrhagic fever and so infected animals should be culled and their carcasses destroyed which will reduce the animal to human transmission. Human to human transmission can be reduced by ensuring that during an Ebola outbreak that public health messages are distributed.
Containing Ebola
Close physical contact with Ebola patients should be avoided and health care workers are at high risk of contracting Ebola during an outbreak due to the nature of their jobs and stringent infection control measures should be adhered to including gloves, wearing protective clothing and regular hand washing along with careful disposal of body fluids. Communities should be advised on how to handle the deceased during an outbreak and to seek advice from Health care workers on these issues.
To contain Ebola outbreaks, it is important is to recognize the possibility that Ebola could be a cause of a patient's presenting symptoms when no outbreak is currently declared and the patient doesn't have all of the core symptoms expected. Many of the symptoms of Ebola are similar to other, more common diseases, but Ebola in Central and West Africa should remain on the differential diagnosis list if the patient presents with some of the symptoms mentioned above until a definitive answer is found.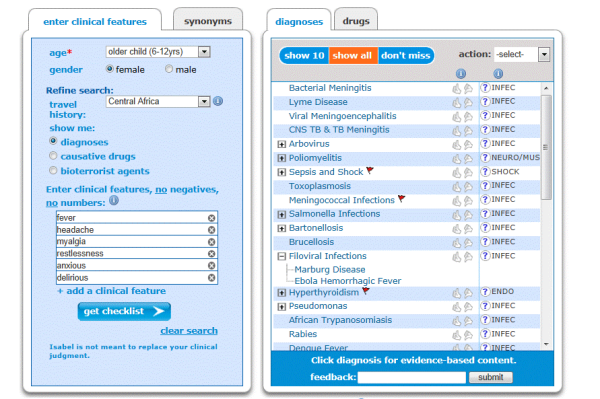 Isabel's Clinical Decision Support System reminds health care workers of the possibility of Ebola being a cause, as it allows the differential disease output to be sorted to specific diseases which are seen in Central or West Africa.
Implementing Mobile Diagnosis Support
In developing countries such as Sub-Saharan Africa, it is difficult to implement access to clinical decision support systems requiring desktop computers due to the lack of infrastructure not place. Health care workers are minimally trained and tend to have a ratio of 1 doctor to 7000 patients and many of the patients live in very remote settings; so a patient could spend a good part of their day travelling to make contact with a health care worker who is normally overworked and cannot spend too long with each patient. During an outbreak of a disease like Ebola, the resources are drained even further due to the need to diagnose and treat early to prevent further deaths and to try to contain the disease. The hospitals tend to have limited power supplies which are unstable and power can be lost regularly, so the facilities should be used for life saving equipment rather than running desktop computers. In Sub-Saharan Africa applications like Isabel can be delivered on mobile applications which overcome many of these issues, including not having to have a power source permanently available. Mobile devices allow the application to be used away from the hospital or clinic base so it does not require the hospital's power source. Mobile applications at the clinics also allow information access for other health professionals who are seeing the patient, including Nurses and Pharmacists. It is also possible to disseminate up to date public health information via the disease information page and ensure that the health professional has the most accurate information and advice to give patients, helping to ensure the outbreak is contained and quickly eliminated.
~ Mandy Tomlinson, Isabel Quality Assurance Director