The Isabel Healthcare 1 Minute Read program highlights various diseases and conditions, providing the Isabel tool differential list. Subscribe to the Isabel blog to receive clinical content and articles.
The recent outbreak of Legionnaire's disease in Edinburgh, Scotland has so far resulted in 40 confirmed cases, 48 suspected cases and 2 deaths and has raised awareness of this disease.
Legionnaire's disease predominantly affects men (70% of cases are diagnoses in men) with the trend in the last ten years moving from those in their sixth decade to those in their middle-ages from 45-64 years. The rates of infection from Legionnaire's disease tend to be similar between the US and Europe with an incidence of 0.8 per 100,000 population. Since 2003, due to increased recognition and testing, the incidence of Legionella infection has increased by 70% in the US particularly in the Mid-Atlantic States. Community-acquired Legionnaires' disease appears to be most prevalent during the summer and fall months.
Legionnaire's disease is not spread directly from person to person and is not contagious. Legionella species are found in lakes and streams, but cases of community-acquired legionnaire's disease are associated with contaminated aerosols produced by man-made water systems like cooling towers, plumbing systems, recirculating water systems, fountains, whirlpool baths and spas.
Legionella are gram-negative rod bacteria. Legionella pneumonia which is also known as Legionnaires' disease occurs when the bacteria are inhaled or sometimes aspirated into the lungs. Once in the lung the organism replicates by phagocytosis and the alveoli become filled with the bacteria, neutrophils, macrophages and erythrocytes which initiate an inflammatory response.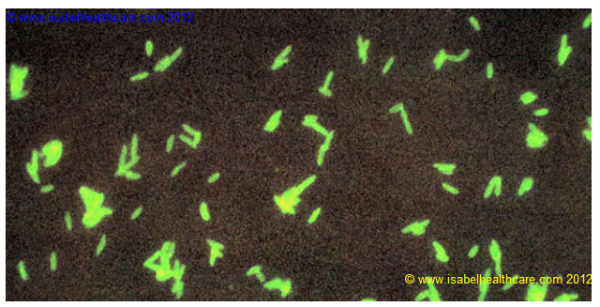 Legionella pneumophila cultured on supplemented Mueller Hinton medium, and stained using direct FA technique. The L. pneumophila bacteria are tagged with a monoclonal antibody treated with a fluorescein dye. After binding to the bacteria the slide is viewed under UV light, and the bacterial cell walls glow green. Legionella pneumophila are Gram-negative rods that stain poorly with Gram stain (and are therefore easily missed). They require enriched media containing iron and cysteine and absorbents to remove fatty acids. Growth can usually be detected after an incubation period of 3-5 days. However, diagnosis is usually based on antibody detection rather than culture.
The symptoms are fairly nonspecific and generally occur any time from day 2 to day 19 after exposure to the initial infection, although 6 to 7 days is the most common time between getting the infection and the onset of symptoms (incubation period). In times of Legionnaire's disease outbreak then this disease should remain high on the differential diagnosis list of a person experiencing any of the following symptoms:
headache
fever - pulse/temperature dissociation is common
lung crackles/rhonchi
productive cough
dyspnea
nausea/vomiting
abdominal pain
hypoxia
tachycardia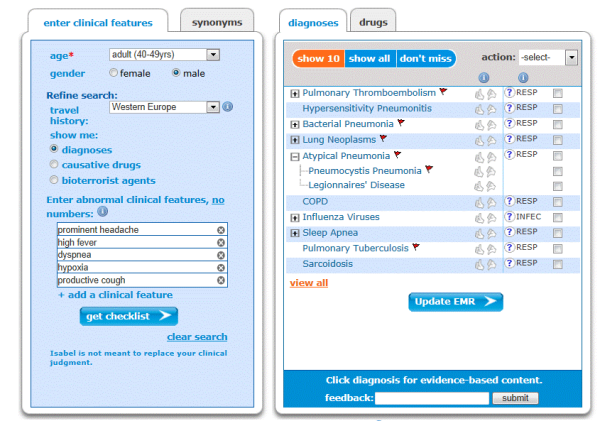 Common presentation of Legionnaire's Disease and checklist using Isabel
The complete blood count will show an elevated white blood cell count; the chest x-ray will show lobar infiltrates. Urine should be tested for Legionella antigen and sputum will show gram-negative rods. Detecting legionella in the sputum or urine is important to differentiate from other diseases like bacterial pneumonia, community-acquired pneumonia, influenza which all have similar symptoms to Legionella, but the sputum, blood and pleural fluid may grow other organisms if the patient has one of these diseases.
Treatment involves the administration of oral or intravenous antibiotics such as erythromycin or clarithromycin for around 7 to 10 days. If a person diagnosed with Legionnaire's disease has severe symptoms or an underlying medical condition such as lung cancer, leukemia, HIV, heart failure or renal failure then they will be treated in a hospital.
Complications can sometimes occur from Legionella infection including parapneumonic effusions, lung abscesses, sepsis, respiratory failure. Mortality from Legionella infection is less than 10% if recognized and treated appropriately, but this increases to in excess of 30% if not recognized or if the wrong antibiotics are given as treatment.
~Mandy Tomlinson, Isabel Quality Assurance Director