The Isabel tool touts an extensive database of conditions for differential diagnosis support, and we often will test its accuracy with real patient cases from the New England Journal of Medicine.
About the Isabel Diagnosis Challenge
The New England Journal of Medicine (NEJM) publishes interesting presentations of common diseases and unusual cases in the Clinical pathology Conference (CPC) series. These cases are educational and can pose diagnostic challenges even to the expert physicians at the Massachusetts General Hospital.

Using the clinical features of these cases you can evaluate your own diagnostic skills and compare your diagnostic performance to that of the physicians at MGH. If you are registered with Isabel as a client or have a free-trial subscription, you can use the diagnosis reminder system and run through some scenarios to get a list of likely suspects. Clicking on a diagnosis will take you through to various knowledge sources and links available from within Isabel.
Today's Case
Demographic: Male, 52 yrs, North America
Quick summary: A 52-year-old man was admitted to this hospital because of weakness and swelling in his legs. The patient had been in his usual health until 9 months earlier, when leg edema and weakness developed, associated with weight gain. His physician prescribed diuretic agents; the edema improved and the patient lost weight, but the leg weakness worsened and the patient had difficulty climbing stairs and standing up from a seated position. Laboratory tests revealed hypokalemia. The diuretics were discontinued, and potassium supplementation was started. Read more at NEJM.

Clinical features entered into Isabel:
muscle weakness
weight gain
hyperglycemia
leg swelling and edema
hypokalemia
malaise
wide striae
multiple ecchymoses
cushingoid facies
elevated corticotropin level
adrenalectomy
STOP !
Before you read further, construct your own:
Complete differential diagnosis
Final diagnosis

Differential Diagnoses considered by the MGH panel: Cushing's syndrome
Final Diagnosis of the case according to NEJM: Nelson's syndrome

Differential Diagnoses of the case as given by Isabel: Cushing' s syndrome in Endocrine
Was the final diagnosis given by Isabel: Yes, Nelson's syndrome in Endocrine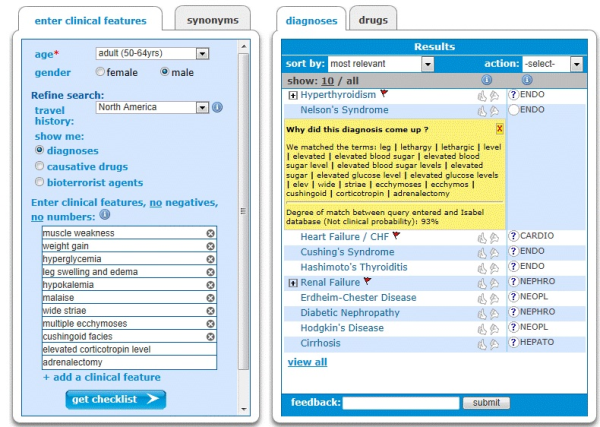 Case 40 (December 29 2011): N Engl J Med. 365(26):2520-2530