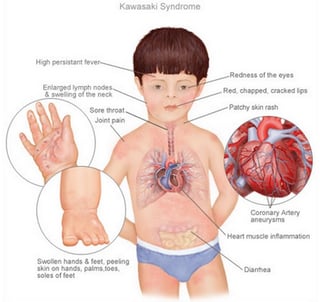 Kawasaki Disease also known as Mucocutaneous Lymph Node Syndrome, Kawasaki Syndrome or Lymph Node Syndrome is a medium vessel vasculitis of childhood. It causes inflammation in the artery walls of the body including the coronary arteries which supply blood to the heart muscle. Professor Michael Levin from Imperial College London states "Neither the public nor the medical scientific community have adequately appreciated that Kawasaki disease is now the commonest cause of acquired heart disease in children in the UK and other developed countries."
Due to a lack of awareness and knowledge about Kawasaki disease it is often misdiagnosed or is diagnosed after significant delays. If Kawasaki disease is recognised early (within 10 days of the illness starting) and treatment initiated, then the disease can be treated and complications of coronary artery aneurysms can be avoided.
Background
The disease occurs worldwide with the highest incidence in Japan and in those who are Asian/Pacific Islanders. Rates are higher in black and Hispanic children compared to white children. The peak hospitalizations with the disease are from December to March. The disease is more common in boys than girls. 76% of children who are diagnosed with Kawasaki disease are under 5. Siblings of children affected are 10-30% times more likely to develop Kawasaki disease as genome-wide linkage studies suggest single nucleotide polymorphisms in the ITPKC gene confers susceptibility.
Etiology
This is unknown but the cause is thought to infectious, due to the abrupt onset and resolution of symptoms, seasonal predominance, clusters and epidemics of the disease, and oligoclonal IgA plasma cells found in Kawasaki disease tissue.
Symptoms
Kawasaki disease is a clinical diagnosis.
The key symptoms are:
Fever for more than 5 days and 4 out of 5 criteria from the list below which need not be present at same time.

Extremity changes (erythema of palms and soles of feet, and/or edema of hands amd feet)

Polymorphous exanthema (frequently in perineal region with desquamation)

Conjunctivitis

Mucosal changes (lip erythema or oropharyngeal mucosal swelling, strawberry tongue or cracked and swollen lips)

Unilateral cervical lymphadenopathy greater than 1.5mm in diameter.
There are exceptions to this rule and if you suspect Kawasaki disease in a child who has a prolonged fever with only two additional criteria mentioned above but also has a high CRP and an ESR then an ECHO should be obtained. If three additional criteria are found then the patient should be treated as having Kawasaki disease.
Young infants who have Kawasaki disease may not tick all the criteria listed above. In a young infant with prolonged fever a high index of suspicion for Kawasaki disease should be maintained.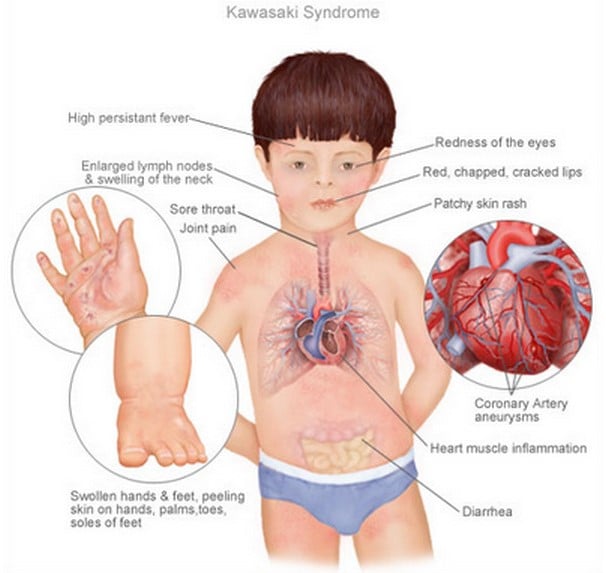 Key Kawasaki Disease symptoms
Lab Tests
Patients with Kawasaki disease may show:
Elevated CRP and/or ESR

CBC – normocytic anemia, WBC with normal to elevated with left shift, increase in platelet count

Hypoalbuminemia

Hyponatremia

Transaminitis and elevated GGT

Hyperbilirubinemia

Aseptic meningitis with CSF pleocytosis

Synovial fluid leucocytosis

Elevated triglycerides and LDL, low HDL
Imaging
If Kawasaki disease is suspected or confirmed then an ECHO should be performed as aneurysms of coronary arteries and rarely iliac and axillary aneurysms can form which are serious lifelong complications. A chest X-ray checking for interstitial pneumonitis and an abdominal ultrasound looking for gallbladder hydrops may also be done.
Treatment
If Kawasaki disease is confirmed then combination therapy with intravenous immunoglobulin (IVIG) and Aspirin will be instigated. There is research which proves if this therapy is commenced within the 10th day of illness then it can significantly reduce the incidence of coronary artery aneurysms. This is the reason why prompt recognition and treatment of Kawasaki disease is so important. With early diagnosis then the complications which can arise from the formation of coronary artery aneurysms can be reduced.
If coronary artery aneurysms do occur then in consultation with Cardiology team it may be necessary to commence antiplatelet therapy and anticoagulation. Close follow up is recommended in any patient who has cardiac aneurysms.
Isabel decision support showing red flagged don't miss diagnosis of Kawasaki disease which often is only recognised after a delay in diagnosis.
Recent Clinical Papers on Kawasaki Disease:
Recent Media Links on Kawasaki Disease:
Have you seen our whitepaper on Successful Adoption of a tool like Isabel into institutions: