Welcome to the Isabel Medical Charity!
The Isabel Medical Charity (UK registration number 1080342) was established in 2000 to help prevent diagnosis errors and improve the speed and quality of diagnosis decision making by providing clinicians with a powerful diagnosis decision aid system.
History of Isabel Healthcare
Isabel Healthcare was created by
Jason Maude in honor of Isabel Maude and all patients whose lives have been impacted by missed or delayed diagnosis, to help clinicians around the world do the best job for their patients.
After two years of research and validation the first version of the Isabel diagnostic tool for children's diseases was launched in June 2002.
Within months of its launch, the system attracted more than 20,000 users from over 100 countries. Demand rapidly grew for a version that would cover all age groups and this was launched in January 2005.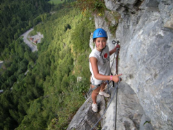 In 2004 the charity passed its development role on to Isabel Healthcare, and became a shareholder in the company now developing the system. This allowed external funds to be raised to sustain the company over the longer term.
10 years after its initial launch, in 2012 the company launched a version of its Isabel system for use by patients-called the Isabel Symptom Checker. It is hoped that this system will help usher in a new era when patients can become more involved in researching their possible diagnoses and working more closely with their doctors.
Because of The Isabel Medical Charity's original mission, the charity decided to provide a grant to the company in order to contribute to the additional costs of developing and maintaining a version for patients and enable the company to provide the system on a free to use basis for individual patients around the world.
The charity trustees view the Isabel system as a powerful tool to help spread medical knowledge around the world and put it in the hands of the people that care most-you the patients. 100% of the donations received will go directly to the charity and will be used for the purpose of helping the company to continue to provide the system on a free to use basis for individuals.