How can clinicians find the right diagnosis faster using an iPad?
Clinicians nationwide are harnessing the power the new Isabel diagnosis "App" -- now available on iPad and iPhone -- with easier access to the powerful web-based Isabel diagnosis checklist system. The Isabel App enables physicians, nurse practitioners and other clinicians using iPhone, iPad or iTouch mobile devices to determine diagnoses and treat patients faster at the point of care. The Isabel app recently made Apple's App Store's (iTunes) list of top grossing apps in the Medical category.
Subscribers can now consult the app on their iPad/iPhone while on rounds at the bedside or at any location when needing to solve diagnostic challenges. Having Isabel available anytime and anywhere makes it practical for physicians to instantly check their patients' diagnoses and therefore reduce the risk of missing an important diagnosis.
The first release of the Isabel App is available for download from iTunes Apple's App Store and offers three purchase levels -- weekly, monthly and annual -- to accommodate various user cases. The weekly subscription is $2.99 in order to make it viable for the occasional user.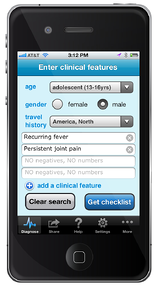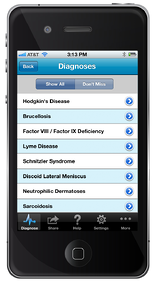 App Features include: a robust database of more than 6,000 pediatric and adult diseases, 'Don't miss' diagnosis alerts for physicians, links to a customizable list of well-known mobile web reference resources to rapidly identify and determine diagnosis, and the ability to share results with colleagues or include them in medical notes.
In 2011, Paul Manicone, M.D., associate chief, Hospitalist Division, Children's National Medical Center in Washington, D.C., and assistant professor of pediatrics, George Washington University School of Medicine, spearheaded the effort to integrate the tool into clinical workflows of select residents and faculty researchers for eventual widespread use.
Dr. Manicone works in a tertiary care referral center where many patients (from infants to young adults) have medically complex conditions or are referred by other providers because they are difficult to diagnose. "My job as a pediatric hospitalist is to field cases with diagnostic uncertainty, so for me Isabel was attractive early on," he said.
Now with the Isabel app on his iPhone, Dr. Manicone easily opens it during rounds or at home. "The app has made Isabel so much more accessible because it's literally in my pocket. The more we can integrate technology into our workflow, the better the efficiency of healthcare. Isabel is a perfect example of that."
Dr. Manicone noted the app helped him and other clinicians diagnosis central nervous system tuberculosis, a relatively rare contagious bacterial infection, in a teenager returning from India. "We entered the symptoms and when TB came to the top of the checklist, we were surprised, but it made us proceed with the work-up and mindset to determine the type of brain infection that she could have. Ultimately the tuberculosis diagnosis was confirmed and we were able to get her therapy started right away," he said.
Another experienced Isabel user is Napoleon Knight, M.D., medical director of hospital medicine and associate medical director of quality at Carle Foundation Hospital and Physician Group in Urbana, Ill. The physician accesses the Isabel app on his iPad when seeing patients in the hospital emergency department.
"I have used the computer version of Isabel and have always found it incredibly helpful. This app makes using Isabel on my iPad that much more convenient and easier to use and a more valuable product for me because I want that knowledge at my fingertips while standing in the patient's room," said Dr. Knight. "The app's checklist will make you smarter in thinking of diagnoses that you might not have thought about otherwise. Medical professionals will find great value in that."
The launch of the Isabel App carries personal significance for Isabel Healthcare founder Jason Maude. In July 1999, Maude suffered a nightmare when his then 3-year-old daughter Isabel was nearly fatally misdiagnosed by her local hospital. Clinicians missed correctly diagnosing necrostizing fasciitis, a flesh eating disease, forcing Isabel to spend three weeks in intensive care fighting for her life. He turned his personal near tragedy into a new life mission by creating Isabel Healthcare to provide a practical tool to help clinicians worldwide do the best job possible diagnosing patients right the first time so they receive the proper treatment immediately.
"Research has shown that approximately 15 percent of all diagnoses are wrong. A recent survey of over 6,000 doctors showed that 47 percent of clinicians encounter cases of diagnostic error at least monthly and 96 percent of them believe that they are preventable," said Maude.