Isabel Diagnosis Support iPhone App Just Released
We just released the first Isabel iPhone app, available at http://itunes.com/apps/Isabel or in the iTunes® App store when you search for Isabel. The public announcement is still a few weeks away, but thought we would make the Isabel app available to our existing supporters to get their feedback. Initial response has been great with solid 5-Star ratings in the UK and US app stores and some glowing reviews. As far we can tell, Isabel is the only app that enables searching by multiple symptoms.
With clinicians around the world rapidly adopting iPhones or smart phones, launching the Isabel App is a great way to help fulfil the original Isabel mission of getting a differential diagnosis or ddx generator into the hands of all clinicians. A good differential diagnosis is at the heart of safe and effective medicine, so the new Isabel app helps more clinicians have easier access to generate a differential more often – which will undoubtedly improve patient care.
Pricing: To make the Isabel App as accessible as possible, we created a novel pricing structure with options for weekly, monthly or yearly subscriptions. This flexibility should suit those clinicians who told us that they found Isabel very useful but couldn't justify the expense of a full year subscription to use it only 6 times a year when they had a difficult case and needed to generate a comprehensive differential diagnosis. Now with the new App, those clinicians will be able to access Isabel using the weekly subscription as needed for a very low price (roughly the cost of a café latte!).
Functionality and Future plans: We are pleased that the Isabel App has preserved much of the functionality of the full version of Isabel, and it also enables the important access to the excellent free resources available from Medline Plus, PubMed, Wikipedia, NHS Evidence, and more. Future releases of the App will enable app-to-app linking, offering access to a wider range of knowledge resources. Other exciting enhancements are in progress, such as data entry by voice, which should make Isabel usable by an ED doc while assessing a patient. This future release will usher in real time generation of a differential diagnosis or ddx!
Below are Isabel app screenshots: 1) Enter clinical features.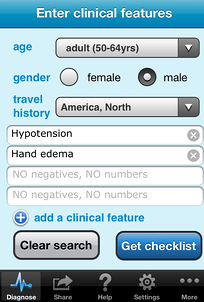 2) Diagnoses list results.

Please try the Isabel app, and let us know what you think.
~Jason Maude, Founder of Isabel Healthcare