The Isabel tool touts an extensive database of conditions, and we often will test its accuracy with New England Journal of Medicine cases.
About the Diagnosis Challenge
The New England Journal of Medicine (NEJM) publishes interesting presentations of common diseases and unusual cases in the Clinical pathology Conference (CPC) series. These cases are educational and can pose diagnostic challenges even to the expert physicians at the Massachusetts General Hospital.

Using the clinical features of these cases you can evaluate your own diagnostic skills and compare your diagnostic performance to that of the physicians at MGH. If you are registered with Isabel as a client or have a free-trial subscription, you can use the diagnosis reminder system and run through some scenarios to get a list of likely suspects. Clicking on a diagnosis will take you through to various knowledge sources and links available from within Isabel.
Today's Case
Access the full case here (if you are a NEJM subscriber).
Dr. Pooja Agrawal (Emergency Medicine): A 93-year-old woman was seen in the emergency department at this hospital because of chest pain and shortness of breath.
The patient had been in her usual state of health, with hypertension and chronic renal insufficiency, until the morning of admission, when she was awakened by stabbing substernal chest pain that radiated to the left shoulder and jaw and was associated with shortness of breath. She called emergency medical services; on evaluation, an electrocardiogram reportedly showed ST-segment elevations. Acetylsalicylic acid was administered orally, and nitroglycerin was given sublingually (three doses).
Demographic: Female, 93 yrs from North America
Clinical features:
Stabbing substernal chest pain
Shortness of breath
ST-segment elevation
Sinus tachycardia
STOP !
Before reading further, construct your own:
Complete differential diagnosis
Final diagnosis
The Answer:
Differential Diagnoses considered by the MGH panel: Aortic dissection Acute pericarditis Pulmonary embolism Myocarditis
Final Diagnosis of the case by NEJM: Apical ballooning syndrome (Takostubo cardiomyopathy)
NEJM Differential Diagnoses included in Isabel:
Aortic dissection in Cardiac
Acute pericarditis in Cardiac
Pulmonary embolism in Respiratory Myocarditis in Cardiac
Do you think that the NEJM should have included some other important diagnoses in their differential? We would love to hear from you.
Was the final diagnosis given by Isabel?: Yes, Takostubo cardiomyopathy under Cardiomyopathy in Cardiac.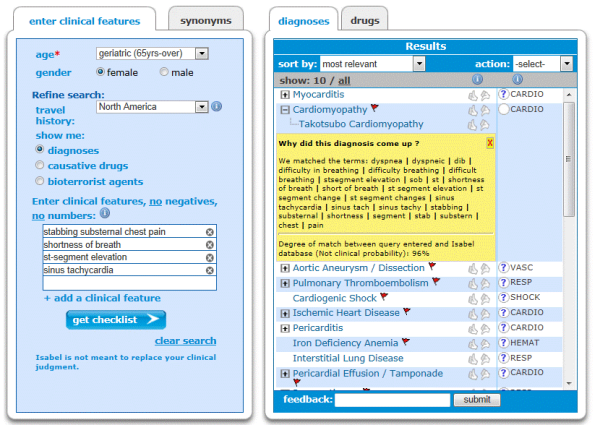 Subscribe to this blog for more real NEJM cases to test your diagnosis skills (at right).
To learn more about improving diagnosis, download the Isabel White Paper: